POTATO VINE
Full Sun or Part Shade
Great Planter Filler!
Vigorous Trailing Foliage
ALOHA SERIES CALIBRACHOA
Full Sun or Part Shade
Great Planter Filler!
No Dead-Heading Required
SUPERBELLS
Full Sun or Part Shade
Proven #1 Plant Brand!
Continuous blooming and no dead-heading required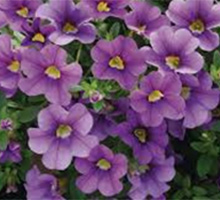 CABERET SERIES CALIBRACHOA
Full Sun or Part Shade
Early flowering and super uniform!
No Dead-Heading Required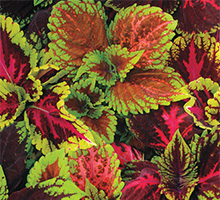 COLEUS
Great in Sun or Shade
Compact and tall varieties available
Trim off flower heads
Do not like cold weather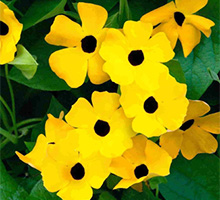 THUNBERGIA
Full Sun
Climbing growth habit
This vigorous vine produces brightly colored flowers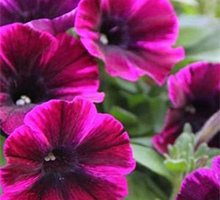 SWEETUNIA SERIES PETUNIA
Full Sun
Medium upright growth habit
Continuous blooming and no dead-heading required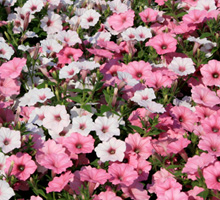 SUPERTUNIAS
Full Sun
Trailing, high vigor
Great for planters and hanging baskets
Dead-heading not necessary
SUPRISE SERIES PETUNIA
Full Sun
Trailing, high vigor
Best for planters and hanging baskets
Bloom all Summer!
DAHLBERG DAISY
(Gem Marigold)
Full Sun
This fragrant annual with delicate, daisy-like yellow blossoms in July and August.
It is best grown as a groundcover
BACOPA
Bahia White
Sun to Part Shade
Prolific white flowers contrast nicely with dark-green foliage
Vigorous Trailing Habit
DAHLIA 'FIGARO'
Full Sun
Height : 6" – 12"
Spread: 6" – 12"
Blooms from planting to frost
Requires Deadheading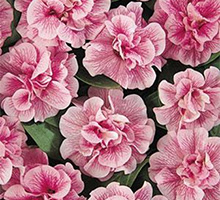 DOUBLE WAVE PETUNIA
Full Sun
Frilly flowers with Wave performance in baskets and planters!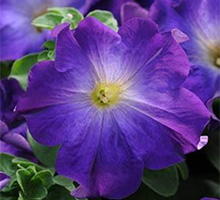 SOPHISTICA PETUNIA
Full Sun
Mounded, upright habit is ideal for premium pots and larger containers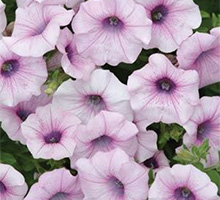 SHOCK WAVE PETUNIA
Full Sun
Petite-flowered plants perform equally well in small spaces, hanging baskets, containers and mixed combos.
DAHLIA 'FRESCO'
Full Sun
Height : 8" – 12"
Spread: 6" – 12"
Blooms from planting to frost
Requires Deadheading
EASY WAVE PETUNIA
Full Sun
Flower-filled plants grow a little more mounded than original Wave, with a more controlled spread.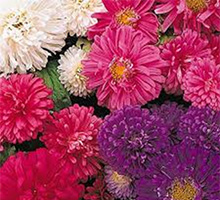 ASTER
Full Sun
Performs well in patio pots, color bowls and mixed containers, producing 2.5 to 3-in./5 to 8-cm, double blooms.
RUDBECKIA
Heat Tolerant
Landscape and Cut Flower
Height 22"
Spread 12-15"
Long-lasting Blooms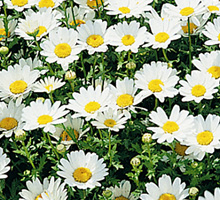 CHRYSANTHEMUM
Full Sun
Beautiful white daisy flowers with yellow eyes which are most effective when planted in groupings. The flowers are excellent for cutting.
NICO VINE
Sun/Part Shade
The dark green and purple foliage makes for an excellent basket or planter filler.
IVY GERANIUMS
Full Sun/Part Shade
Ivy geranium has a graceful, trailing habit that makes it ideal for a hanging baskets.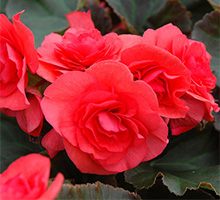 SOLENIA BEGONIA
Part Sun to Sun
Blooms continuously
Great for Hanging baskets, window boxes, landscaping
Dead-heading not necessary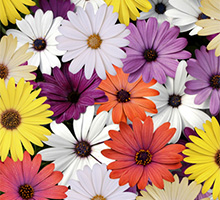 OSTEOSPERMUM
Full Sun
Grest for height in planters
Fertilize Weekly
Needs Deadheading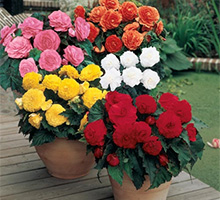 NONSTOP TUBEROUS BEGONIA
Full to Part Shade
Upright Growth Habit
Great for shaded gardens or patio pots
NONSTOP MOCCA TUBEROUS BEGONIA
Full to Part Shade
Fully double flowers on dark foliage
Upright Growth Habit
Great for shaded gardens or patio pots
SEED GERANIUMS
Full to Part Shade
Upright Growth Habit
Great for shaded gardens or patio pots
PANSIES
20% discount for flat of 18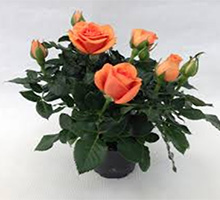 Mini Rose
Blooms all summer
Not usually winter hardy
TEA ROSE